Meet Dr. Vincent Siraguso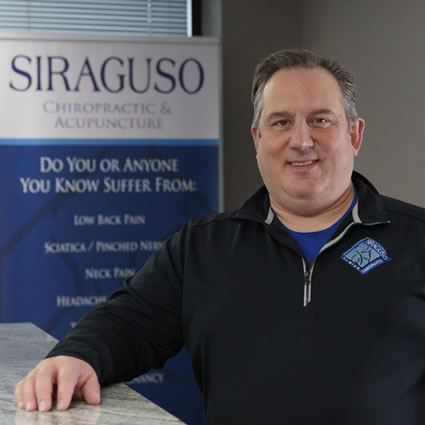 Dr. Siraguso was born and raised in the Columbus Park (Northend) Neighborhood in downtown Kansas City. He grew up working in his fathers neighborhood grocery store as a young boy and through college. He graduated from St. Pius X High School where he was a three sport athlete and a two year all-metro baseball player. He received an undergraduate degree from Donnelly college in biology/nutrition in 1991.
A Chiropractic Education
Dr. Siraguso attended Cleveland Chiropractic College in Kansas City. While at Cleveland, he served as an instructional tutor in anatomy, neuroanatomy and neurophysiology along with receiving his certification in the use and application of physiotherapy. He graduated with honors and received his Doctorate in Chiropractic medicine in September 1994. In 1996 Dr. Siraguso successfully completed a postgraduate program and became a Certified Chiropractic Sports Physician (CCSP). This is a designation that only 5% of the chiropractors in the nation have achieved. Dr. Siraguso then achieved a Fellowship in acupuncture in 2000 from the International Academy of Medical Acupuncture (F.I.A.M.A.). He has also served as proctor for the National Board of Chiropractic Examiners, which is the board responsible for the licensing of chiropractic physicians.
Dr. Siraguso is also a member of Unico which is an Italian-American organization dedicated to the sole purpose raising money to help provide college scholarships for young men and women and to also help families in need.
Outside of the Practice
Dr. Siraguso has practiced in Liberty for the past 21 years. He resides here locally with his wife, son and two daughters. He has served thousands in the community and beyond. His own personal experience with injury led him to chiropractic and is one of the many reasons that he has such a passion for the profession.
OUR SERVICES »

Dr. Vincent Siraguso | (816) 415-2900