New Patients at Siraguso Family Chiropractic
When you walk into our office, you are welcome! We care about each of our patients, and your families. Know that we will work with you to achieve optimum health and wellness, now and for a lifetime.
Before your first visit, we ask that you complete the online registration forms. Please bring your ID, insurance cards and any prior imaging that you may have when you come into the office.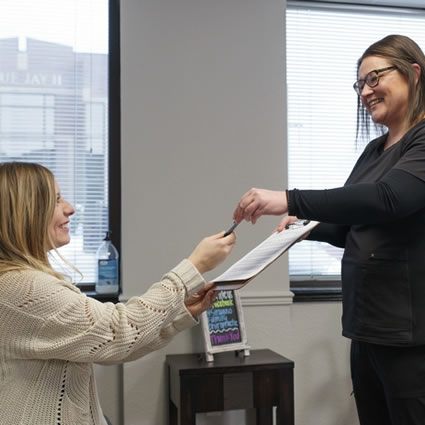 Our intake process consists of two parts. On your first visit, Dr. Siraguso discusses your problem/issues in depth. He also answers any of your questions that haven't been addressed. At this time, he examines you thoroughly to pinpoint the treatment areas.
Before proceeding, our staff will advise what your insurance benefits are for this visit. With your approval, they will take you for x-rays. We'll always be honest and upfront with you; no unexpected billings from us.
Dr. Siraguso will give you a quick explanation of what your problem is and what needs to be done to correct it. If you're in pain, he will offer some palliative care to make you more comfortable. This visit lasts about 60 minutes; you then schedule your follow-up appointment to discuss his findings.
On your second visit, Dr. Siraguso will discuss the report of findings with you. After looking at your x-rays together, you will receive your diagnosis, care plan and home exercises, if any. He will advise what the total cost will be and how long before you can start to see results.
When you're comfortable with the plan, he will do your first adjustment and any other modalities included in the treatment.
We accept most insurance providers and Medicare. Please speak with us to verify your coverage and any applicable copays or deductibles. HSA plans and major credit cards are also accepted.
Our fees are comparable, if not lower, to facilities in the area. We never want cost to keep you from seeking the care you need. Talk to us; let's work out a solution so we can get rid of your pain.
Ready to Book Your Visit?
You and your family are special and most welcome in our practice! Let us help you get healthy so you can enjoy life again. Start today, contact us for an appointment at (816) 415-2900.
CONTACT US »

New Patient at Siraguso Family Chiropractic | (816) 415-2900